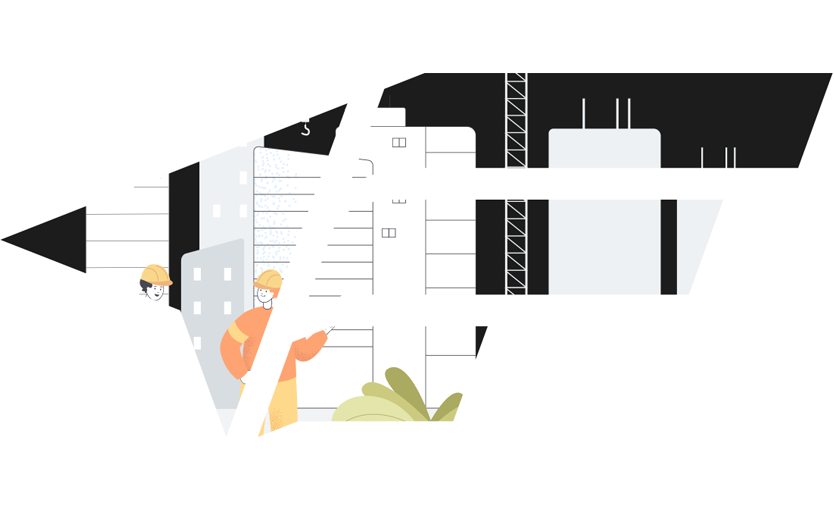 Our deep & proven expertise makes us your right choice. Go no further.
With > 60 years of hands-on experience in construction, real-estate & technology,
we are fully geared up to help you build a vastly superior project.
India's #1 construction management solution
Here is what our customers are saying about how FalconBrick is helping them boost the performance of their construction projects every day.
With 150 + successful deployments across multiple project sizes & segments, we are the industry leaders.
We are implemented at 40 mn+ sqft of construction and has enabled projects worth INR 25,000
cr. Most of our customers have given us multi-project, multi-year deals. Also, over 10 mn data
points have been generated on our system by on-ground site teams. All this experience has gone
into designing & enhancing our product. With this kind of expertise under our belt, you can rest
assured of the value you get from us.

Most comprehensive coverage
of construction management.
Our product covers a vast array of modules & use cases in construction. Project Management, Quality
Control & Assurance, Contractor performance management, Project visualisation & health monitoring,
Handover & transition management and we have a lot more under development
and soon to come.

You get a solution, configured &
fully suited to your project.
The product is deployed at an individual project level. We configure it to the specifics of your
project – your site organization, your workflows, your checklists, etc are all built in.
Also, we have different modules for different stages of a project, hence you can start using it at any stage of
construction – Set-out, Substructures, Superstructures, Finishing, or even at Handover stage.

Designed for quick adoption
by site staff at all levels.
We perfectly understand that your site staff are constantly on the field, monitoring projects, and don't
have the time to sit at their desk, or in front of a computer. So, we have designed the mobile app to be
extremely user-friendly and especially suited to the needs of site staff. They can easily update work,
monitor progress, conduct inspections, etc. on their phones, while constantly on the move at the site.

Get up & running in less than a week, that too with a fully customized solution.
Our dedicated Customer Success teams act as your friend and guide, and they handhold you throughout the
onboarding process. We can configure the solution to your specifications, train your users, and deploy it live at
your site in double quick time.

No admin headaches for you – we run
this as a fully managed service.
We take care of the entire administration of the system, from day zero right up to project completion. So,
no admin hassles for you at all!
Apart from initial onboarding help, we continue to support you right through the project. The support
would be twofold – on-site presence as required, coupled with remote customer support on Whatsapp
as well as calls. Just use the product and derive benefits from it. We take care of all the rest.

"Pay as you use" Model with
UNLIMITED user logins.
We work on a subscription-based, Software as a Service (SaaS) model. No capex cost, completely cloud-
based delivery. Pay only for the specific project you deploy on, with access available to unlimited users.

Your data – access controlled & completely safe.
We give the topmost priority to data privacy and security. Your data is fully access-controlled, partitioned,
and fully secure with high levels of encryption. Also, we understand that you have full rights to all the data
generated by your teams on the app, and all that data is easily available to you at any point in time.
Convinced and ready to get started?
We are happy to answer any remaining questions you may have.
How much time does it take to implement the solution?
Our dedicated customer success team ensures TAT for implementation is nothing more than 2 - 3 weeks post relevant data shared with our team.
Is there any limit for the number of user logins?
No limit, our product allows unlimited number of users.
Can you help us with checklists?
Yes, we have developed a robust repository of detailed, activity-wise checklists. You could use these to create a set of checklists / checkpoints  best suited for your project.
What kind of reporting do you provide?
We provide a full array of visual Business Intelligence reports on Real-time project status / progress, Quality performance, Contractor performance, etc. These are available to Project Heads, Project managers & Senior management . These dashboards helps you remotely monitor your entire project real-time, and take data driven decisions on quality, project health, contractor performance, and multiple other such parameters.
How safe is my data with FalconBrick?
Security of our customer's data is top priority for us
Our service is hosted on the world's leading cloud service providers (Amazon AWS / MS Azure), with the highest level of data encryption & security. Completely secure partitioning methodologies are used for customer data on cloud

Also, there will be access based controls for viewing data, even within a client. Hence, individual users only have access to data that is pertinent to them, and this access is as per instructions by client's senior management
Thus, we have taken measures to ensure maximum data security.